Madhouse
Madhouse is a show that documents drivers who participate in NASCAR's oldest series, the Whelen Modified Series, at NASCAR's oldest running track, Bowman-Gray Stadium, throughout the 2009 racing season. The drivers featured are Tim Brown, Burt and Jason Myers, Chris Fleming, Jonathan "Jon Boy" Brown and Junior Miller.
Bowman-Gray Stadium is known as "the Madhouse" for its intense, close quarters racing every weekend. The track is located in the heart of racing, Winston-Salem, North Carolina, and racing is a staple of everyday life. Tim Brown is the track's hot shoe and is not liked by many fans because of his success. Junior Miller and the Myers have a rivalry like no other which is documented on the show. The rivalry dates all the way back to the Myers' brothers father and still continues to this day.
The show not only documents on track action, but also follows the drivers throughout the week to see what takes place in the shops, where the cars are prepared, and allow fans a perspective that not most people get to see.
Sundays at 10:00 PM et/pt on History Channel

1 Season,

13

Episodes

January 10, 2010

/

10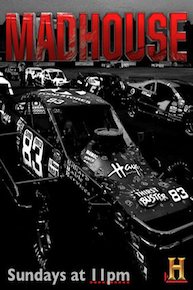 Madhouse Full Episode Guide
Tim Brown needs a strong finish to win a record-tying eighth championship, but Burt Myers and Jon Boy are within striking distance; Jon Boy mulls leaving the Miller team and racing on his own next season.

Episode

12

-

Back in Black

Rookie, Jonathan Brown, made enemies last week but this week is affected by an unexpected tragedy.

Episode

11

-

Out for Blood

Jonathon Brown is frustrated with his sponsor. Puddin' bets him that he won't even qualify in the top six this week. Can Jon Boy compete on the same level as Burt Myers and Tim Brown?

Episode

10

-

The Rocket Explodes

Tim Brown yells expletives to the crowd after a win and now is waiting for his discipline. Chris Flemming gets into a serious accident.

Episode

9

-

Lamb to the Slaughter

Burt Myers's bad engine and Junior Miller's failing health put a wrench in their racing futures. A 16-year old driver appears on the scene to carry the torch once held by his fallen father. The veterans find themselves in turmoil while the rookie looks to kickoff a new era at Bowman Gray Stadium. With a 100 lap, Double Points race coming up, they're all worried that Tim Brown will kick the door closed and steal the season.

Episode

8

-

Wheels of Misfortune

Jason is forced to make decisions between work or family.

Episode

7

-

Breaking Point

Burt and Jason are stressed out with the amount of work to do on their cars after last week's race. The S & R garage is on easy street after a win by rookie Jonathan Brown. A call from the Myers garage to S & R raises the tension level to a boiling point

Episode

6

-

Young Blood on the Track

This week is a turning point for the drivers of Bowman Gray Stadium. It's mid-season, and Tim Brown has opened up a sizeable lead in the chase for the championship, while Burt Myers's frustration over his constant mechanical problems increases.

Episode

5

-

Vengeance is Mine

The Myers group has a victory, but Junior wants revenge.

Episode

4

-

Brother Against Brother

Jason has had enough and decides to stand up to Junior.

Episode

3

-

Full Moon Madness

With a full moon, the Madhouse tempers flare.

Episode

2

-

Down with the King

After the most embarrassing wreck of his career, fifty-eight year old Junior Miller is worried about his eyes...
If You Like Madhouse, Then Try...